Our Top 5 DeWalt Power Tools
Published: 11th February 2020
Read time: 6 minutes
DeWalt has always provided a benchmark for power tool quality, consistently ensuring the trade has exactly what they need to complete their job with minimal effort. This all stems from the company's founder, Raymond E DeWalt and his philosophy for reducing labour costs while providing an easier way of working for the trade. If they're allowing the trade to work in a more effective, and safer manner then they're fulfilling their purpose. This list compiles 5 of the best DeWalt products we have in stock to help make your life easier.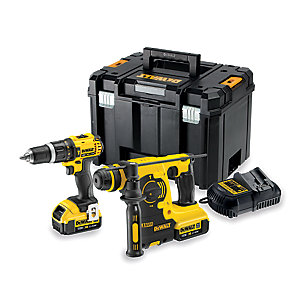 1. DeWalt 18V Speed Combi Drill SDS Kit
Voltage - 18V
Battery Type - Li-ion
Power Type - Cordless
A mixture of incredible value and brilliant power, the DeWalt 18V Speed Combi Drill SDS Kit provides both a Compact Combi Drill and a SDS+ Hammer Drill ensuring you have the right tools for any job. The DCD785 18V XR Li-ion 2 Speed Compact Combi Drill comes equipped with a speedy keyless chuck for quick and easy bit changing and 14 position adjustable torque control for consistent screwdriving into a variety of materials regardless of the screw used. While the DCH253 SDS+ Hammer Drill features best in class vibration and a bright white LED to improve visibility and user fatigue, making it ideal for drilling anchors and fixing holes in tougher materials such as concrete, brick and masonry.
2. DeWalt 18V XR Brushless Compact Drill with Battery and Case
Weight - 1.62kg
Charge Time - 30 minutes
Power Type - Cordless
For a complete piece of equipment, the DeWalt 18V XR Brushless Compact Drill provides you with everything you need to get up and go. This kit includes the highly impressive 18V XR Compact Drill, a high capacity lithium ion battery, robust case and charging plate. The drill itself includes all the modern additions we've come to expect from DeWalt such as quick change keyless chuck, LED light and long lasting power; all wrapped up in a lightweight and easy to use body.
3. DeWalt 18V XR Brushless Multi-Tool
Weight - 1.5kg
Voltage - 18V
Power Type - Cordless
For the trade, a multi-tool is almost a must need. The DeWalt XR Brushless cordless Oscillating Multi-Tool provides access to a complete range of accessories to help with cutting, sanding and ensuring any project has the finishing touches needed to look its best. The Brushless motor allows for longer usage, delivering up to 57% more run time over brushed motors. The bright LED light and lightweight body make for an incredibly easy to use piece of kit.
4. DeWalt 18V XR Li-Ion Cordless Angle Grinder
Weight - 3kg
No Load Speed - 7000rpm
Power Type - Cordless
Equipped with a powerful fan cooled motor, the DeWalt 18V XR Li-ion Cordless Angle Grinder is powerful enough to cut or grind a variety of materials, for example concrete, stone or metal. The small, compact size allows for increased versatility and makes it ideal for operation within tight spaces. The DCG412N angle grinder delivers a maximum level of durability with minimum vibration, increasing productivity and the amount of time you can use the tool at any one time.
5. DeWalt 240V Diamond Drill
Weight - 5.62kg
Power Type - Corded
Cable Length - 4m
For more intense drilling, the DeWalt 240V Diamond Drill provides great power, suitable for drilling through concrete, metal and wood. The increased power provides quick and easy usage, while also allowing deep bores. An anti-vibration handle with rubber-coated grip means that you can operate the drill steadily, and in comfort, allowing for longer, satisfying use.
Joining the Debate: Plastic vs Copper Plumbing
Ever since its first use in the UK there has been a discussion as to what is better, plastic plumbing or copper piping. We've presented all the facts and figures in the debate...